I realise this is quite a delicate topic for some people to talk about. But for something that has rifled the news since February 14th, has been a hot talking point on the radio and even with my patients daily conversations. I just feel compelled to blog about it.
I am not going to say what I think or voice my opinion. As in all honesty, I do not have one. We'll never know whether Reeva Steenkamp's murder was pre-meditated or understand the actual version of events. We need both parties alive to ascertain that.
We'll also never know the truth because of the media. They really have come out with so much rubbish throughout this?! The way they sensationalise everything and at the end of the day what has happened is really tragic! I'm sure Oscar and Reeva's family feel horrendous enough without the media flagging things up that may or may not be true.
I think from this story that's what has really stood out to me.
I work with a South African lady who has family in Pretoria. She is of an opinion like me - she does not have one but one thing she did say really stood out to me. 'It's not unheard of in South Africa for people to have guns and shoot intruders in their homes. We're not a safe nation.' And most importantly this made me feel really sad 'It is not the first and certainly won't be the last time I read a story where someone has shot their Mum, Dad, Son or Daughter thinking they were an intruder. I lived in South Africa for 30 years and there were many times I went to bed scared after I heard of burglaries in my area. It's instinct to own a gun to protect yourself. You have to.'
So to South Africa this story isn't new? It's only because Pistorius is famous that this has taken the world by storm? Just another reason why this whole case is just so tragic.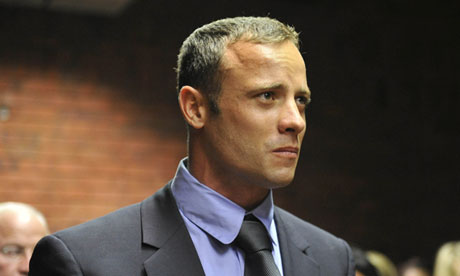 Oscar Pistorius shot and killed someone. He admitted to it and he needs to be punished for that. Whenever I have said that I have been met with the response "so you don't think he murdered her then?" I really don't have an opinion on that as we'll never know all the facts or goings on. However, I do have respect for him for trying to save her life afterwards, not running away from the scene of the crime and going to court each day knowing his wrong doing in all of this. Most people would run away, would not own up to it and make excuses. He's a guilty man and as you can see from daily pictures of him in the press- he sure knows it!
I have a lot of respect for Reeva's family. They have not really said a word in all this and what they have asked are fair questions. They are grieving and I really hope that now Pistorius has been granted bail that the media don't turn towards them for more "news". It would be so unfair that she's made out to have the legacy of being shot by a blade runner (that was the headline of an article I read earlier).
At the end of the day a young person died too soon. We know who did it. I just hope from June 4th this year - it's handled more tastefully

.